Kids, Teens &
Other Youth
Ministry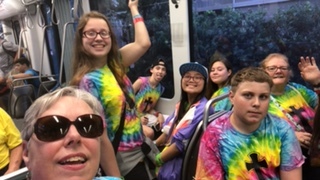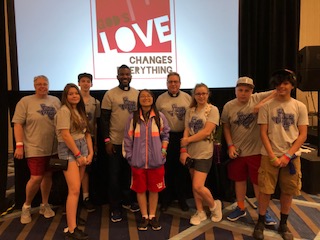 LYO Junior / Senior High School Retreat "Masks"
The youth of Holy Trinity attended the Junior / Senior High School retreat hosted by the Lutheran Youth Organization of the Metro New York Synod at Crossroads Camp and Retreat Center in Port Murray, New Jersey. The theme for the retreat was "Masks", Matthew 26: 69-70.
The kids spent time exploring how we all wear different masks in our lives and in our faith. The keynote speaker, Pastor Wolfgang Lauder of Christ Church in Staten Island, led an engaging and insightful discussion of the many masks and roles each of us takes on and how we can work to unmask our Christian faith.
There was also plenty of opportunities for fun and fellowship for kids to meet new friends, reconnect with old friends, and to feel surrounded by other kids who share their Christian beliefs. There was a lot of singing, dancing, games, and even a few snowball fights.
Many thanks to Diane Gilroy, LYO Director, and the LYO Board for all of their hard work to make this an unforgettable experience for our youth!
Youth Group Hours
Our Youth Group meets the first and third Saturday of each month.
Youth in 4th - 8th grade meet from 6:30 - 8:30 pm
Youth in 9th grade and up meet from 8:30 - 10:30 pm.
Come Join Us!
We turn no one away and all are welcome. Come join us!
And hey . . . bring a friend!
Ms. Diane Gilroy is our Youth leader and is always seeking people to help coordinate youth activities. The youth group meets in the fellowship hall on our lower level.
Check the calendar at this link here or call the church for the current schedule at 718-347-0278
Plans are underway for our youth and adult leaders to attend the 2021 ELCA Youth Gathering in Minneapolis, Minnesota.
Browse through the pictures from our trip to the 2018 Youth Gathering in Houston, Texas and our trip into NYC to see the Christmas Tree.